Easily Transfer Callers to Another Phone During a Call
Flip calls seamlessly between devices

Transfer calls to any extension or number with the touch of a button

Direct callers to the right person, department or voicemail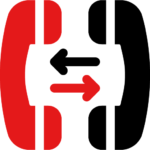 Here's How Call Transfer Can Help Your Business
Allow Your Receptionist or Colleagues to Transfer a Call to Any Extension or Number

If you're running a busy company, you or your team might find yourselves in situations where you receive a call and need to pass it along to the appropriate department or person. Call Transfer lets you, your receptionist, or any of your colleagues easily transfer a caller to another phone, extension or voicemail with the simple tap of a button.

Switch Devices Mid-call

When you're on a business call and need to switch phones or locations, you don't want to have to end the conversation and call the person back from another phone. With Call Transfer, you can easily flip a call to yourself on another device without interrupting the call. This means you can change your location and phone, but keep the business call flowing naturally, without fear of dropping your call.
How Call Transfer Works

To transfer a call with Gecomp, simply press *9 on the phone you're taking the call from, then choose from the options given. You can:

Send the call to voicemail
Transfer the call to another phone
Transfer the call to another extension
Transfer the call to a number on your speed-dial list
Transfer the call to another number you directly input

When ready, press *9 again to complete the transfer.
Greet callers the way they want