Gecomp Conference Calling Brings the Meeting to You
Reduce time and money spent on travel

Seamlessly connect with remote employees

Conveniently discuss projects with global partners

Conduct meetings over the phone with up to 94 callers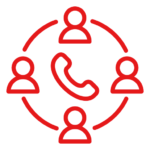 Get Your Conference Call Started
Conduct Your meeting From Anywhere


As a host, you are given a dedicated phone number and unique access code that lets you conduct a conference call from any computer or phone. You have the power to schedule meetings, activate the conference controls, and manage any interactive features of the meeting.

Collaborate Effortlessly


Invite employees and clients easily by email or text message. Dial-in details are automatically included in the invitations so participants can simply join the conference on their computer or phone by clicking on the link.

Accomplish Goals Faster


A virtual conference call allows everyone to reach decisions faster because participants no longer have to physically meet in order to attain their goals in a timely manner. With the convenience of the Gecomp Conference Calling feature, you can seamlessly connect and work with all of your partners from across the globe on one call.
Greet callers the way they want