Create the Perfect Schedule for Your Calls
Choose who answers your calls

Route calls based on time of day

Schedule on-call rotations for small teams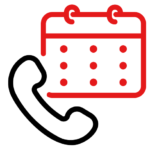 Benefits of Call Scheduling
Create Specific Schedules


Easily direct incoming calls to any phone number you want based on custom schedules that can be specified to the minute. If you would like calls from Monday to Friday, 9am to 5pm, to ring to your office phone, simply mark it down in the call scheduler.

Scenario 1: You take lunch the same time every day – from 1pm to 2pm. With Call Scheduling, you can schedule your calls to go directly to a colleague every day for that hour.

Scenario 2: You leave the office every day at 6pm. With Call Scheduling, you can schedule all your incoming calls after 6pm to be professionally answered and routed by your Auto Attendant to voicemail or your personal phone.

Scenario 3: You manage a small medical team. With On-Call Scheduling, you can combine real-time shift calendars with integrated on-call notifications to help you better manage your employee resources.

Get Business Done on Your Own Time


Forwarding business calls straight to your home or mobile phone is great for a flexible workplace, but doesn't allow you any time off when your phone is constantly ringing. Call Scheduling gives you the ability to customize in advance when calls are forwarded to you and when they go straight to voicemail or to another colleague.

Stay Flexible


If you need to update your normal Call Schedule, you can manage your incoming calls on the go simply by tapping in the Gecomp app and adjusting where and when calls will be forwarded. You no longer have to re-direct calls as they come in – Call Scheduling does it for you.
Greet callers the way they want