Protect Your Privacy and Time with Call Blocking:
Stop telemarketers, auto-dialers and other unwanted calls with our call blocking service

Define your list of allowed numbers

Spend less time screening the same calls by permanently blocking numbers

Block entire area codes from calling your line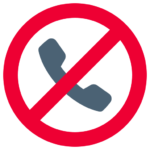 A Simple Way to Control Which Calls Get Through To Your Business
Blocking Calls Permanently

No need to spend time trying to silence your phone when you can block calls permanently. It's easy to stop unwanted or nuisance callers from any number. You can use this capability to limit calls from people trying to reach a business that previously had your number.

Increasing Efficiency and Productivity

Call blocking boosts productivity and efficiency by eliminating calls from telephone surveyors, call subscriptions or pranksters. You save time for your employees and your business by determining which calls you want your team to answer.

Controlling Your Call Data

Robocalls and unwanted callers can skew important data when you're tracking leads from your search, digital, and offline marketing campaigns. Call blocking lets you better measure the results of your marketing by controlling the calls getting through.
Greet callers the way they want