Business Texting Creates More Opportunities to Engage with Customers
Over 90% of text messages are read within 3 minutes of receipt according to Forbes while emails are opened at an average rate of just 22% as shared by Social Times

64% of consumers state that they are more likely to have a positive perception of a company that offers texting as a service channel according to One Reach

Texting is the highest rated method of communication for customer satisfaction according to CFI Group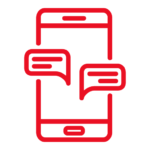 The Benefits of Business Texting from Gecomp
Powerful Marketing Tool


Customers and prospects are more likely to open relevant business texts than emails from your business. Take advantage of this high open rate to send targeted, powerful messages to your customers.

Stop Carrying Two Mobile Phones


No need to have a personal smartphone and another phone for business. When you add the Business Texting feature to your Gecomp virtual phone service, you can use both your personal and business phone numbers to text from the same phone.

Reach Clients via Text Instead of by Phone


Gecomp Business Texting also comes in handy if you'd prefer to communicate with a prospect, vendor, or other party by text message using your business number, rather than by speaking over the phone. You'll have the flexibility to text for business from anywhere without ever having to give out your personal mobile number. Open the text messages in your email or on your smartphone with the Gecomp mobile app.
Greet callers the way they want