Deliver a Great Customer Experience:
Show clients you value their concerns

Allow prospects to wait to speak to someone instead of leaving a voicemail

Treat callers to customized hold music while they wait

Engage customers with promotional messages and helpful information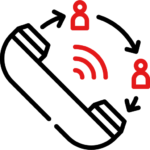 Call Queuing is Good for Business
Boost Caller Satisfaction

Users prefer a phone queuing system over voicemail or busy signals. The Gecomp call queuing service provides a simple way to deliver great customer service to your callers when no one is immediately available to handle their call. You can personalize messages for clients to hear while they wait to let them know their call is important and that someone will be with them shortly..

Keep Your Customers Engaged

Customize the hold music callers hear while they wait in your virtual queue. Provide soothing or energizing music to put customers in a more positive mindset and reassure them that their call won't be ignored. You can also replace hold music with marketing messages and introduce special offers to customers before you speak directly with them.

Strengthen Your Brand

Use customizable hold messages in your queuing service to offer valuable information about your company to current and prospective customers. Record updates about new products or services, current promotions, and upcoming events. You can even provide quick answers to common customer questions, such as hours of operation or directions, or redirect callers to your site for more information.
Greet callers the way they want