Call Forwarding Helps You:
Never miss an important business call

Stay connected even when you're traveling

Protect your time from unwanted calls

Gain flexibility in how your business calls are managed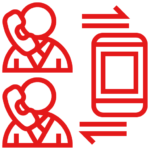 Two Options for Forwarding Your Calls
Sequential Ring

Gecomp Sequential Ring gives you the power to set rules to have your business calls forward to multiple phone numbers in any sequence you specify. You can also easily update these rules anytime, from your user-friendly Gecomp account online (or even from your mobile app).

Simultaneous Ring

Don't take the chance of missing an important call. Gecomp Simultaneous Ring lets you forward calls to as many as five phone numbers at the same time. You specify which numbers to send calls to, and you can change or add to the list anytime through your user-friendly Gecomp account online.
Greet callers the way they want