Benefits of International Forwarding
Do business in the US and Canada, even if your business hub is abroad

Forward a US number to your business in another country

No need to pay to get an International Number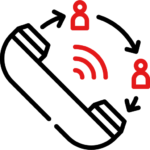 Are You Based Internationally?
Address the North American Market


Companies based overseas can easily setup an Gecomp phone number located in the United States or Canada to forward calls internationally. An International Number is a great option to open up new opportunities for your business.
Scenario: You run a clothing company based in Milan, but want to attract more clients from New York. With Gecomp it's easy to provide a local number for those customers to call that forwards to your main business line in Italy.

Global Reach with a Local Feel


Businesses use International Call Forwarding to look like a local company while thriving in a global marketplace. International toll free numbers provides callers with a number that appears to be local, without realizing that their call is actually being forwarded to a location across the world. Fewer customers will hesitate to do business with you, like they might with a company in a different region.
Greet callers the way they want