1. Caller dials your local or toll free number

2. Caller hears your company greeting

3. The Gecomp system prompts caller to state their name

4. You hear the caller's name

5. Now, you can choose to accept, decline, or send caller to voicemail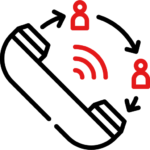 You Decide Which Calls To Take
Work More Efficiently

Call Screening gives you the power to accept incoming calls only from the people you need or want to speak with. This saves you valuable time and allows you to accomplish more in your day-to-day business. With Gecomp Call Screening, you can devote more attention important customers and prospects.

Reject Calls That Are Not Critical

Sending callers that are not high priority, or from Caller IDs you don't recognize, to voicemail lets you call them back at a time that is more convenient for you. If you choose not to accept a call, the caller hears a message stating that you are unavailable and the call will be immediately sent to voicemail. This process is discreet, and your callers will never know that you are opting to not accept their call.
Greet callers the way they want