Create Global Connectivity with International Numbers
Attract clients and businesses in cities around the world

Create a local presence in international markets

Increase customer satisfaction for international clients

Do business across the globe, without traveling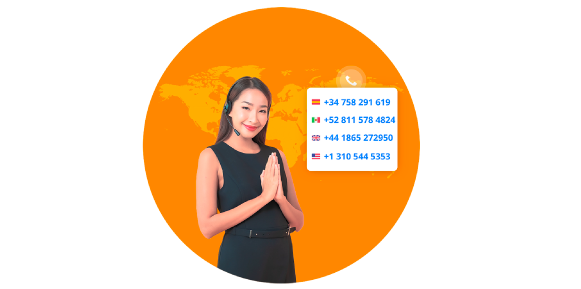 International Business Made Easy
Create an International Presence


Reach customers in international markets with a local phone number that they recognize and trust. Forward calls back to your business at home to have international presence without worrying about international calling rates. Example: You operate a hotel in NYC, but want to attract more clients from Italy. With Gecomp, you can buy an International Phone Number local to Italy that forwards to your NYC hotel business.

Remove the Hassle from International Calling


Avoid long-distance rates and the hassle of international dialing codes. Your customers can call you as if you were right next door. You can return the call with just the tap of a button, and avoid having to add in any country codes.

Greet Customers in Multiple Languages

Bilingual? With a multilingual system, you have the option of setting your personal greetings in multiple languages. International Phone Numbers that offer clients greetings and prompts in languages they're familiar with can increase customer satisfaction and allows them to connect faster.
Greet callers the way they want